Are many Cloud Platforms used to build Custom Hybrid Cloud Scenarios, like Cloud Foundry used quite often by different Infrastructure providers Like INTEL, EMC², VMware, Swisscom, since 2 days comes another one from Microsoft – Azure Stack , which is great for #hybrid #cloud .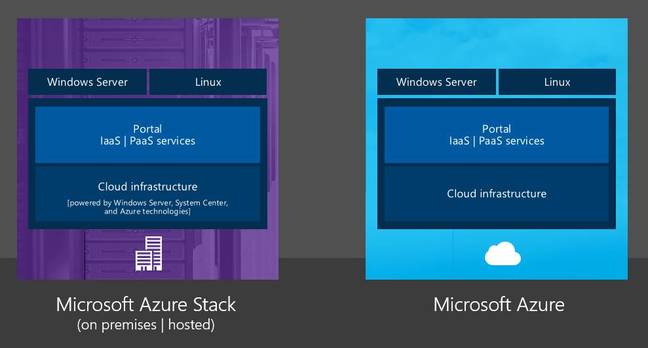 Microsoft has launched the public preview of Azure Stack, something that has been in TAP for several months now. You can find the download on MSDN right now or from download link.
Azure Stack is a collection of software technologies that Microsoft uses for its Azure cloud computing infrastructure. It consists of "operating systems, frameworks, languages, tools and applications we are building in Azure" that are being extended to individual datacenters, Microsoft explained, in the white paper. However, Azure Stack is specifically designed for enterprise and service provider environments.
For instance, Microsoft has to scale its Azure infrastructure as part of operations. That's done at a minimum by adding 20 racks of servers at a time. Azure Stack, in contrast, uses management technologies "that are purpose built to supply Azure Service capacity and do it at enterprise scale," Microsoft's white paper explained.
Azure Stack has four main layers, starting with a Cloud Infrastructure layer at its base, which represents Microsoft's physical datacenter capacity (see chart).
The Azure Stack software.
Next up the stack there's an Extensible Service Framework layer. It has three sublayers. The Foundational Services sublayer consists of solutions needed to create things like virtual machines, virtual networks and storage disks. The Additional Services sublayer provides APIs for third-party software vendors to add their services. The Core Services sublayer includes services commonly needed to support both PaaS and IaaS services.
The stack also contains a Unified Application Model layer, which Microsoft describes as a fulfillment service for consumers of cloud services. Interactions with this layer are carried out via Azure Resource Manager, which is a creation tool for organizations using cloud resources. Azure Resource Manager also coordinates requests for Azure services.
Tools for Integration, Deployment and Operations you can find here – https://azure.microsoft.com/en-us/documentation/articles/azure-stack-tools-paas-services/#
More About It also in released a whitepaper providing more information on key Azure Stack concepts and capabilities that should help you gain a much richer understanding of our approach